Last Updated on August 16, 2015
[lastupdated]
Using Spotify can help improve your Chinese listening ability. Spotify is a fantastic and free online music streaming site. Spotify has many songs from Hong Kong, China, and Taiwan, and you can create your own Chinese language radio stations with Spotify. You can even search individual artists, and listen to a few of their songs directly. Spotify has free accounts funded by ads, and paid accounts as well.
According to Wikipedia, Spotify is available in numerous countries. Spotify is available in most of North America, most of South America, most of Western Europe, Australia, New Zealand, Japan, and some countries in Southeast Asia.
Getting Started With Spotify
First, go to play.spotify.com and create a free account with an email address or your Facebook account. Next, search for the artist that you want to listen to under the "search" bar, and type in your artist's name. It would be better for you to type in the artist's name in Chinese characters, but it may work by typing in the artist's English name. For example, I can type in Jolin Tsai, or 蔡依林 and both will redirect to her Chinese name 蔡依林.
Cantonese Radio In Spotify
You can also play music in Cantonese. Just look up a famous Hong Kong star who sings in Cantonese, and go from there.
Creating a Radio Station In Spotify
You can create a radio station with any kind of artist that you like in Spotify. Assuming you have already created a free account and are logged in, to create a radio station in Spotify, click on the "Radio" button, and then type in an artist or band's name, and then click on what you want. It will then create a radio station with music similar to that band or artist. For example, if I wanted to listen to music similar to Jay Chou (周杰倫), the Taiwanese superstar, I would click on "Radio", then search for either Jay Chou or 周杰倫, and then look through the options, and then click on 周杰倫. Afterwards, a radio station with his music and singers and bands with music similar to his will be created and play randomly selected songs. A screenshot of a radio station I made with music similar to 蔡依林 (Jolin Tsai) is below.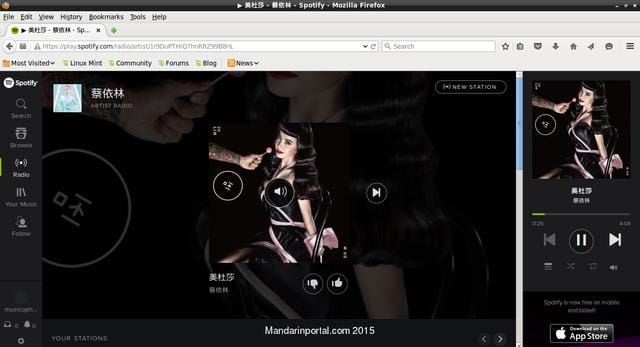 What If You Can't Understand The Lyrics?
Even if you can't understand the words, it is OK. It will probably give you motivation to learn more Chinese. One reason I think listening to the radio is good is because you can get a good taste of what the language sounds like. Even if you can't understand anything, at least you can hear nice sounding music.
Following Chinese Songs With The Lyrics
I think that following songs along with the lyrics can be a fantastic way to improve your Chinese. You must first know the name of the song in Chinese. That is easy with Spotify. Spotify will tell you the name of the artist or band, along with the song name. The word for lyrics in Chinese is 歌詞 (in Pinyin ge1 ci2). I think the best way to search for the lyrics of a Chinese song is to search in Google or Baidu by using the artist and the song name, and then adding 歌詞 after the song name. For example, if you wanted to search for the lyrics of the song by S.H.E 中國話, you can search in Baidu or Google:
S.H.E 中國話 歌詞
Some of the best links you would come up with in Baidu or Google for the above search could be
via Wikia
via musichk
via Baidu
What did you think of this article? Let's continue the conversation in the comments below.